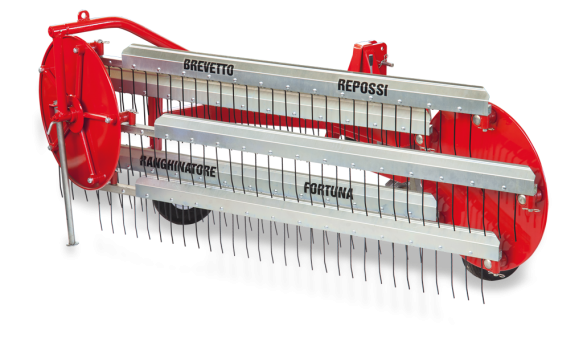 Frontally mounted hydraulic comb side-delivery rake with one raking group. Its standard equipment includes an independent hydraulic plant with a pump, to be directly fitted to the power take-off, that drive the rotation of the reels that operate both in raking and in tedding configuration. Its horizontal part of the three point attachment is pivoting (with limitable oscillation angle). It has two swivelling Balloons wheels 16×6.50-8 and their distance from the ground is adjustable by a simple screw system.
Special Advantages







| | |
| --- | --- |
| Working width | 4.00 m andana compresa |
| Minimum transport width | 3.25 m |
| Number of reels | 5 |
| Tines per reel | 20 |
| Wheels | Ballons 16×6.50-8 |
| Weight | 397 kg |
Reels speed regulation valve
Quick triangular floating three-point linkage (as an alternative to the standard one)
Quick triangular fixed three-point linkage (as an alternative to the standard one)
Independent hydraulic system for single models (without)
Windscreen
Sixth comb kit (for single rake unit)
Larger-diameter silage tine
Video
Photo gallery
Ranghinatore a pettini portato idraulico ad utilizzo frontale con un gruppo ranghinante. Dotato di impianto idraulico indipendente con pompa da collegare direttamente alla presa di forza del trattore che aziona il movimento dei pettini con posizione di ranghinatura e spandiandana. Attacco a tre punti oscillante (con regolazione dell'ampiezza dell'escursione). Due ruote piroettanti regolabili in altezza a vite.
Download