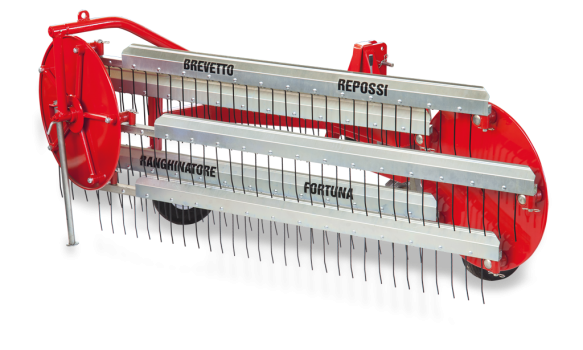 Front-mounted hydraulic comb rake with one raking unit. Equipped with independent hydraulics with pump for connection directly to the tractor power take-off, which drives the comb movement. It has both raking and tedding configurations. Floating three-point linkage (with range adjustment). Two swivel wheels with screw-adjustable height.
Special Advantages






| | |
| --- | --- |
| Working width | 3.50 m |
| Minimum transport width | 2.98 m |
| Number of reels | 5 |
| Tines per reel | 17 |
| Wheels | n. 2 16x6.50-8 |
| Weight | 370 kg |
Reels speed regulation valve
Larger-diameter silage tine
Sixth comb kit (for single rake unit)
Quick triangular fixed three-point linkage (as an alternative to the standard one)
Quick triangular floating three-point linkage (as an alternative to the standard one)
Windscreen
Independent hydraulic system for single models (without)
Video
Photo gallery
Ranghinatore a pettini portato idraulico ad utilizzo frontale con un gruppo ranghinante. Dotato di impianto idraulico indipendente con pompa da collegare direttamente alla presa di forza del trattore che aziona il movimento dei pettini con posizione di ranghinatura e spandiandana. Attacco a tre punti oscillante (con regolazione dell'ampiezza dell'escursione). Due ruote piroettanti regolabili in altezza a vite.
Download