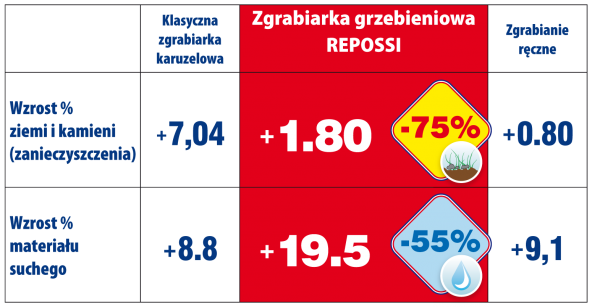 Aby zminimalizować zanieczyszczenie zielonki przez ziemię i obecność bakterii Clostridium, Repossi zawsze zaleca stosowanie zgrabiarek grzebieniowych. Badania wykonane na Uniwersytecie w Mediolanie dowodzą, iż podczas używania zgrabiarek grzebieniowych Repossi zanieczyszczenie zielonki przez ziemię i bakterie Clostridium jest o 75% mniejsze w porównaniu do zgrabiarek innego rodzaju. Wzrost pylenia podczas pracy zgrabiarką grzebieniową, mierzony podczas badań, wynosił +1.80% (biorąc pod uwagę +0.80% uzyskanych podczas zgrabiania ręcznego). Rezultat innego rodzaju zgrabiarek to +7.04%. Zatem wynik + 1.80% można uznać za fizjologiczny.
Jak wyjaśnić takie osiągnięcie?
Zgrabiarka grzebieniowa posiada szczególną umiejętność: podnosi z ziemi produkt podczas jego odwracania nie ciągnąc go ani nie szarpiąc.
Grzebienie, poruszając się po łuku wchodzą pionowo w siano a zbierają je poziomo nad ziemią. Następnie w delikatny sposób wysuwają się z siana. Cechą szczególną tego systemu jest to, że grzebienie dotykają ziemi w jednym tylko momencie ( tuż przed kontaktem z sianem i tuz po nim zęby znajdują się nad darnią!), zapewniając absolutną czystość siana nie zawiera więc ono ziemi ani kamieni. To charakterystyczne podniesienie siana z ziemi zapewnia doskonałe wietrzenie a w konsekwencji suszenie. Zawartość suchego siana jest większa o ponad połowę w porównaniu z sianem uzyskanym za pomocą zgrabiarek innego rodzaju.
Zgrabiarka grzebieniowa doskonale sprawdza się w przypadku zbioru bardzo delikatnej trawy, na przykład lucerny itp. Delikatny ruch grzebieni pozwala na zachowanie trawy w całości, nie niszcząc jej listków i łodygi, które podczas suszenia stały się bardzo kruche.
Rozwiązania zapobiegające bakterii Clostridium
Co można zrobić w oborze aby wyeliminować bakterię Clostridium w mleku?
Zawartość bakterii Clostridium w mleku pochodzi z odchodów i brudnych wymion. Spadek ilości czynności wykonywanych ręcznie oraz ogromna praca jaką trzeba wykonać w związku z prowadzeniem działalności gospodarczej sprawia, iż pojawia się problem związany z utrzymaniem dostatecznej czystości boksów i urządzeń będących w kontakcie ze zwierzętami, koryt, w których pozostają resztki paszy. Użytkowanie "przemysłowe" środków dezynfekujących nie rozwiązuje problemu a nawet go powiększa ponieważ zaburzają "dobrą" florę bakteryjną. Bakterie Clostridium są na nie odporne, więc działanie to mija się z celem.  (źródło: "Sempre più clostridi nel latte – di Michele Corti)
Gama produktów Repossi zawiera maszyny stworzone do utrzymania czystości obór (motospazzola hydrostatyczna) i boksów (Spandy).