Maszyny rolnicze Repossi są projektowane z ogromną starannością, zwracając uwagę na potrzeby najbardziej wymagającego klienta i są owocem ciągłej i trwałej współpracy z użytkownikami.
1) Przywiązujemy szczególną uwagą do przygotowywanego produktu.
Zgrabiarki Repossi osiągają doskonałe wyniki w przypadku każdego rodzaju paszy, pozwalają otrzymać produkt o wysokiej jakości nie zbierając ziemi i kamieni, ułatwiając tym samym suszenie na polu. Potwierdzają to badania wykonane przez Uniwersytet w Mediolanie, których wyniki przedstawiamy w poniższej tabeli: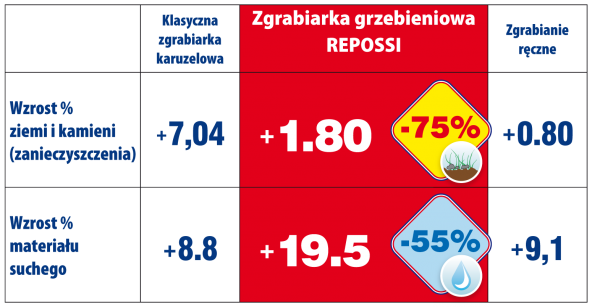 Z badań tych wynika, że zgrabiarki Repossi w dużym stopniu ułatwiają suszenie produktu na łące i zbierają tylko taką ilość zanieczyszczeń jaką można uznać za fizjologiczną.  Wszystko to pozwala na utrzymanie bardzo wysokiej jakości produktu, który wchodząc w skład paszy wpływa na jakość życia bydła. Odpowiednia jakość siana (niska zawartość zanieczyszczeń) pozwala mieć pod kontrolą zawartość zbiornika pod kątem zawartości bakterii (clostride) w mleku. Poza tym, lepsze wysuszanie produktu na łące zapewnia ważną oszczędność energetyczną, gdyż nie wymaga dodatkowego suszenia.
2) Wyjątkową uwagę poświęcamy użytkownikowi maszyny.
Wszystkie produkty Repossi są projektowane i i wykonywane z uwzględnieniem najwyższych standardów bezpieczeństwa. Jeśli wymagane są przez kodeks drogowy, potwierdzone są przez certyfikat homologacji dopuszczający poruszanie się po drogach. Wiele modeli jest wyposażonych w napęd hydrauliczny (bez wałków kardanowych): poza wyeliminowaniem wszystkich problemów bezpieczeństwa związanych z napędem kardanowym są one przystosowane do zastosowania dodatkowych urządzeń bezpieczeństwa.  Dodatkowo maszyny Repossi gwarantują doskonałą manewrowość zarówno na łące jak i drodze oraz świetnie dostosowują się do każdego rodzaju terenu dzięki prostym i szybkim regulacjom wysokości roboczej za pomocą śrub.
3) Wiele uwagi poświęcamy kosztom użytkowania
Maszyny Repossi (szczególnie ciągnione), mimo dużej szerokości roboczej mogą być podłączane do ciągników o małej mocy i zapewniają dużą oszczędność oleju napędowego. Poza tym, wiele zastosowanych rozwiązań pozwala na oszczędność czasu podczas przygotowania maszyny do transportu po drodze i w trakcie jej użytkowania. Urządzenia Repossi nie wymagają zbyt dużo uwagi jeśli chodzi o konserwację (okresowa wymiana filtrów, oleju hydraulicznego, zastosowanie szczególnego rodzaju smaru), są zaprojektowane tak aby zagwarantować ich solidną i wytrzymała budowę (ramiona o szczególnym profilu, malowanie proszkowe lub galwanizacja, przekładnia w kąpieli olejowej itp.)