Mod. Spandy 1.8 8 self propelled – Hydrostatic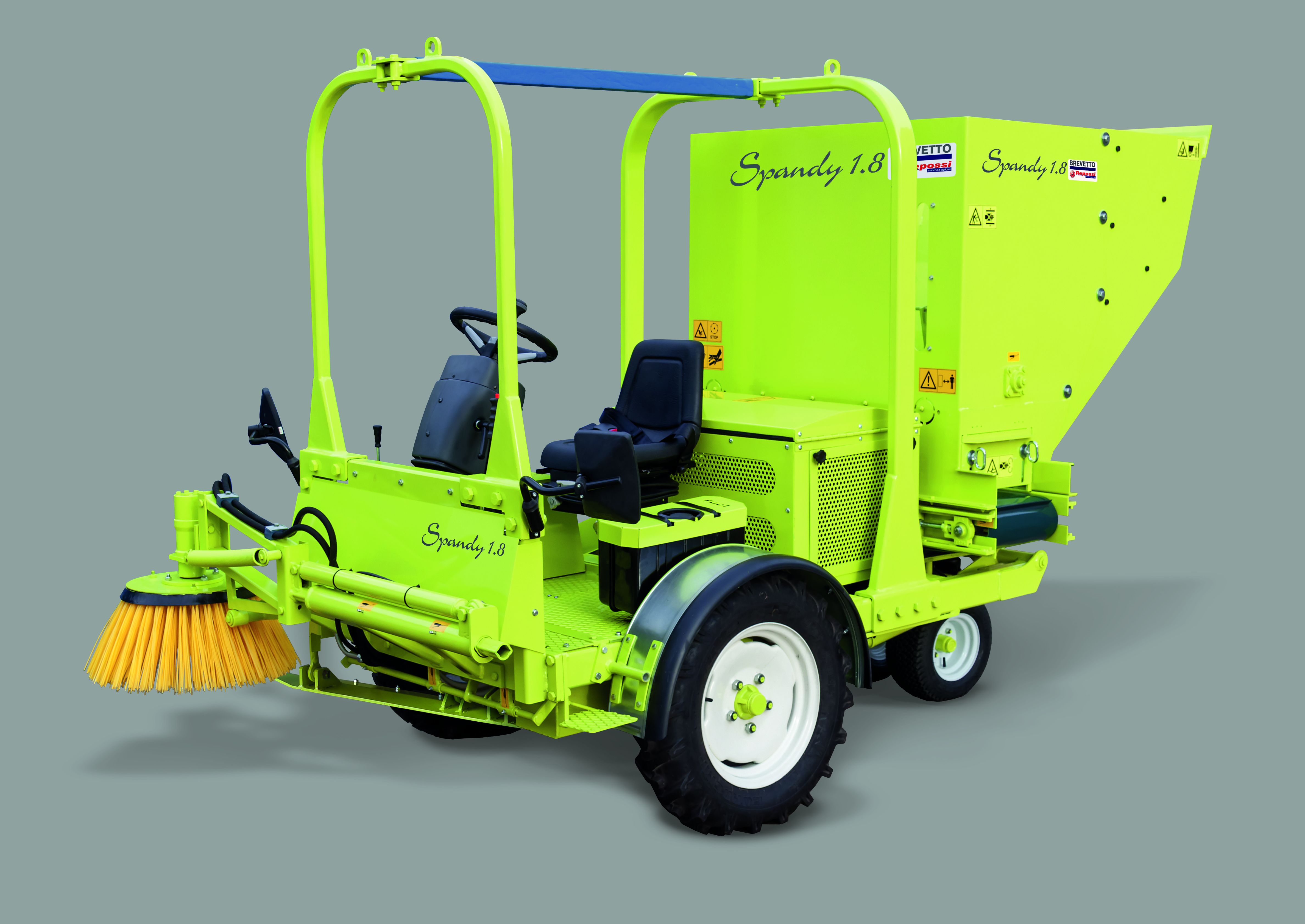 Self-propelled multipurpose machine for cleaning the ends stalls and renews bedding at the same time. It consists of a chassis with four wheels, a front rotary brush and a self-loading tank. All the controls are accessible from the centrally positioned driving seat. Thanks to a hydraulic distributor, the front brush may be lifted and lowered, the tank may be raised and lowered, and the motors that release the tank load and cause the front brush to rotate may be turned on and off. It is possible to load various kinds of bedding into the tank according to needs (sawdust, chopped straw, sand, etc.). Dust is minimized during bedding release thanks to an effective roller-belt system.
Its hydrostatic transmission allow to drive the Spandy with its control pedal. It has brakes on the frontal wheels, 6.50-16 front drive wheels and 16×6.50-8 rear steerable wheels. Steering is fast and accurate thanks to the load sensing hydraulic system. It turns completely around in a radius of 1.80 m. Width: 1.62 m; height: 1.90 m; length: 3.60 m; carrying capacity:1.80 m3.
Lombardini FOCS 1003 LDW three-cylinder diesel engine, 1.028 cm3, 19.00 kW (25.50 HP) with electric start.Weight: 1.300 kg.
Special Advantages






| | |
| --- | --- |
| Width | 1.62 m |
| Height | 1.90 m |
| Length | 3.60 m |
| Capacity | 1.80 m3 |
| Engine | Lombardini FOCS 1003 LDW three-cylinder diesel engine, 1.028 cm3, 19.00 kW (25.50 HP) with electric start. |
| Weight | 1.300 kg |
Reels or lateral rotating brush speed regulation valve
Hydraulic engine with straw knifes
Frontal blade to clean the corners: hydraulically acted (without)
Frontal brush (without)
Video
Photo gallery
Macchina semovente idrostatica multifunzione per la pulizia delle cuccette e il rinnovo della lettiera. È composta da un telaio con quattro ruote, da una spazzola rotante anteriore e da un cassone autocaricante. Dal sedile di guida in posizione centrale si azionano tutti i comandi tramite un distributori oleodinamici che permettono di alzare e abbassare la spazzola anteriore, alzare e abbassare il cassone e azionare i motori idraulici che permettono la fuoriuscita del prodotto caricato e la rotazione della spazzola anteriore. Nel cassone è possibile caricare vari tipi di prodotto secondo le necessità dell'azienda (segatura, paglia trinciata ecc.). Per l'utilizzo con la paglia trinciata si consiglia l'accessorio schiaccia paglia che ottimizza il flusso del prodotto. Grazie ad un efficace sistema rullinastro viene minimizzata l'emissione di polvere durante l'uscita del prodotto destinato alla lettiera. La trazione è completamente idrostatica ed è comandata con un pedale (per permettere la scelta della velocità di lavoro ottimale). Dotata di freni che agiscono direttamente sui motori di trazione, ruote anteriori 6.50-16 per la trazione e posteriori 16×6.50-8 sterzanti; sterzatura rapida e precisa grazie all'idroguida. Gira su se stessa in un raggio di 1.80 m. Larghezza 1.62 m, altezza 1.90 m, lunghezza 2.80 m, capacità di carico 1.80 m3.
Motore Diesel a tre cilindri con raffreddamento ad acqua Lombardini FOCS 1003 LDW -1.028 cm3 – 19 kW (25.5 CV) con avviamento elettrico. Peso 1.300 kg.
Download