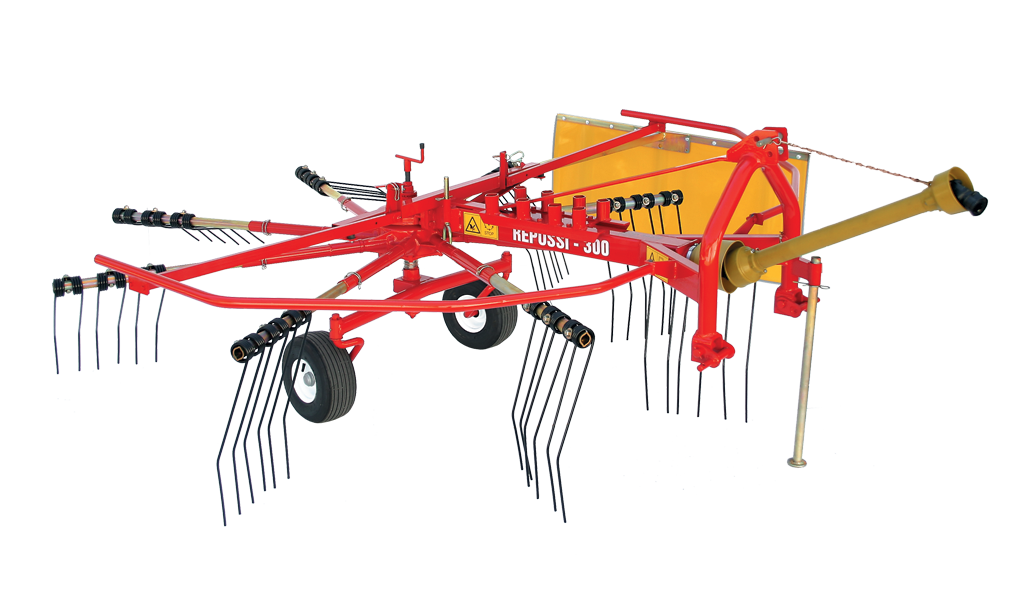 Rear mounted rotary rake, acted by the power take-off with one oil-lubed and height adjustable rotor. It has 8 strong zinc-plated arms with a special profile (like a cardan shaft), that are easily unthreaded for the transport on the public road, on which 3 special steel C85 teeth with double slope shape are mounted. It can work width two different width: 3.20 m or 2.80 m (left swath included) obtained by changing the locking position of the external part of each arm, depending from the quantity of grass in the field and allowing to always obtain windrows of the best size and volume. It has 2 swivelling wheels 15×6.00-6, a cardan shaft with clutch and a rotor locking device for road transportation.
Special Advantages





| | |
| --- | --- |
| Working width | 3.20 m and 2.80 m |
| Rotor diameter | 2.80 o 2.68 m |
| Minimum transport width | 1.25 m |
| arms | 8 |
| Tines for each arm | 3 |
| Wheels | 2 swivelling wheels 15×6.00-6 |
| Weight | 260 kg |
3 point chain
Sensing front Balloon wheel adjustable in height with special pivot or chain
Video
Photo gallery
Ranghinatore rotante portato ai tre punti ad utilizzo posteriore, azionato dalla presa di forza con un rotore a bagno d'olio regolabile in altezza a vite (che consente una regolazione molto precisa dell'altezza di lavoro), con 8 robusti bracci portadenti zincati con speciale profilo a limone (come alberi cardanici) facilmente sfilabili su cui sono montati 3 denti in acciaio C85 a doppia inclinazione. Può lavorare con due larghezze: 3.20 m o 2.80 m andana compresa che si ottengono variando la posizione di bloccaggio dei bracci portadenti sul gruppo rotante a seconda della quantità di prodotto presente in campo così da ottenere sempre andane di dimensioni ottimali. Ha 2 ruote 15×6.00-6 piroettanti ed è completo di albero cardanico con frizione e di fermo per il bloccaggio del rotore durante il trasporto.
Download