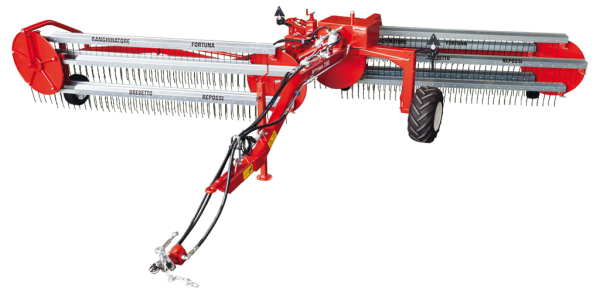 Rear-mounted hydraulic trailed side delivery comb rake with two raking units, controlled from the tractor driving seat. Equipped with independent hydraulics with pump for connection directly to the tractor power take-off, which supplies the hydraulics and moves the combs. The cylinders that raise and lower the wheels and two raking units are controlled by the tractor distributors. It may be fitted with lights for transport on the road. It forms compact swaths on the left of the running direction.
Special Advantages








| | |
| --- | --- |
| Working width | 7.30 m |
| Minimum transport width | 2.55 m |
| Transport height | 3.70 m |
| Number of reels | 10 |
| Tines per reel | 20 |
| Wheels | 26×12.00-12/16×6.50-8 |
| Weight | 1140 kg |
Electric-valves kit to allow single movement of the raking groups from the cabin
Hydraulic taps to allow single movement of the raking groups
Additional ballast for main wheels
Larger-diameter silage tine
Video
Photo gallery
Ranghinatore a 10 aspi , comandato dal posto guida del trattore, che forma andane laterali compatte sul lato sinistro in ordine di marcia. Dotato di impianto idraulico indipendente, con pompa calettabile alla presa di forza del trattore, che alimenta il sistema idraulico per la rotazione degli aspi. I cilindri che alzano e abbassano le ruote e i due gruppi ranghinanti sono azionati dai distributori del trattore. Equipaggiata con impianto luci è OMOLOGATA per la circolazione su strada
Download
Customer area
Sorry: you are not qualified to view manuals and catalogs.
If you are already registered as Customer or Supplier enter your data otherwise
request
a login.