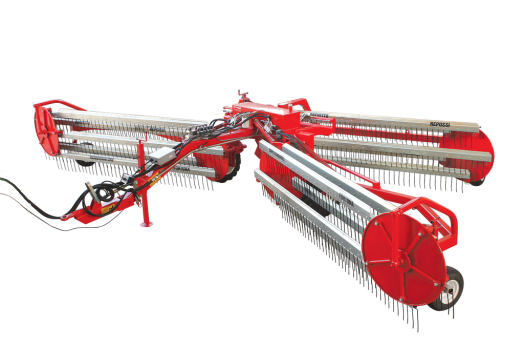 It is a triple side-delivery rake with 3 independent raking groups, acted from tractor driver's seat by a remote control device connected to an electronic case. It has 5 different working configurations: 1) Central swath: only the two frontal raking groups work; 2) Lateral swath: only the right frontal and the rear raking groups work realizing a left side swath; 3) two lateral swathes: only the frontal right raking group and the rear one work, realizing two single left sided swathes 4) central swath with turning: all the three raking groups work simultaneously. A central windrow is realized by the frontal raking groups and it is then turned by the rear one on the left side producing a total turn-over of the fodder; 5) Single swath turn-over: only the right frontal raking group works. By request it can be equipped with a lighting unit.
Special Advantages









| | |
| --- | --- |
| Working width (with lateral swath configuration) | 7.30 m |
| Working width (with double lateral swathes configuration) | 8.00 m |
| Working width (with central swath configuration) | 7.50 m |
| Cleaning width | 6.60 m/7.50 m |
| Minimum transport width | 2.54 m |
| Transport height | 3.70 m |
| Wheels | 26×12.00-12/16×6.50-8 |
| Weight | 1.480 kg |
Larger-diameter silage tine
Video
Photo gallery
Ranghinatore a pettini trainato elettroidraulico a 3 gruppi ranghinanti comandato dal posto di guida del trattore con un comando a distanza collegato ad una centralina elettronica. Ha 5 possibilità di lavoro: 1) Andana centrale – lavorano solo i due gruppi anteriori; 2) Singola andana laterale – lavorano il gruppo anteriore destro e quello posteriore per formare un'unica andana sul lato sinistro; 3) Doppia andana laterale – lavorano il gruppo anteriore destro e quello posteriore posizionato in modo da formare due distinte andane laterali 4) Andana centrale con rivoltamento – lavorano tutti e tre i gruppi ranghinanti. L'andana centrale formata dai gruppi anteriori viene rivoltata sul lato sinistro così da garantire la movimentazione di tutto il foraggio raccolto; 5) Rivoltamento andana singola – lavora solo il gruppo ranghinante anteriore destro.
Equipaggiato con impianto luci è OMOLOGATO per la circolazione su strada in Italia.
Download