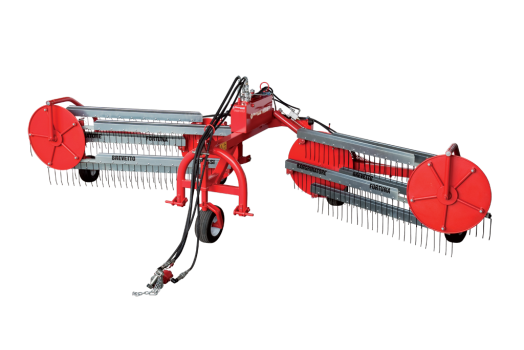 Hydraulic comb side-delivery rake to be used both frontally and rearly mounted: this double side-delivery rake with central swath has 10 reels, acted depending by tractor's hydraulic plant (version without independent hydraulic plant) or independently from the tractor (version with independent hydraulic plant). It has three main swivelling wheels Balloons 18.5×8.50-8 and two lateral wheels 16×6.50-8. The distance from the ground is adjustable by a simple screw system for each wheel independently.
Special Advantages








| | |
| --- | --- |
| Working width | 5.40 m |
| Minimum transport width | 2.54 m |
| Transport height | 2.66 m |
| Number of reels | 10 |
| Tines per reel | 13 |
| Wheels | n. 3 18.5X8.50-8 - n. 2 16x6.50-8 |
| Weight | 620 kg |
Hydraulic taps to allow single movement of the raking groups
Electric-valves kit to allow single movement of the raking groups from the cabin
Independent hydraulic plant for double or triple rakes
Sixth comb kit (for single rake unit)
Larger-diameter silage tine
Video
Photo gallery
Ranghinatore a pettini portato idraulico ad utilizzo sia frontale che posteriore con due gruppi ranghinanti ad andana centrale, con 10 aspi azionati dall'impianto idraulico del trattore (versione senza impianto idraulico indipendente) oppure
dall'impianto idraulico indipendente. Tre ruote principali Ballons 18.5×8.50-8 e due ruote esterne 16×6.50-8, tutte regolabili in altezza a vite
Download

Customer area
Sorry: you are not qualified to view manuals and catalogs.
If you are already registered as Customer or Supplier enter your data otherwise
request
a login.