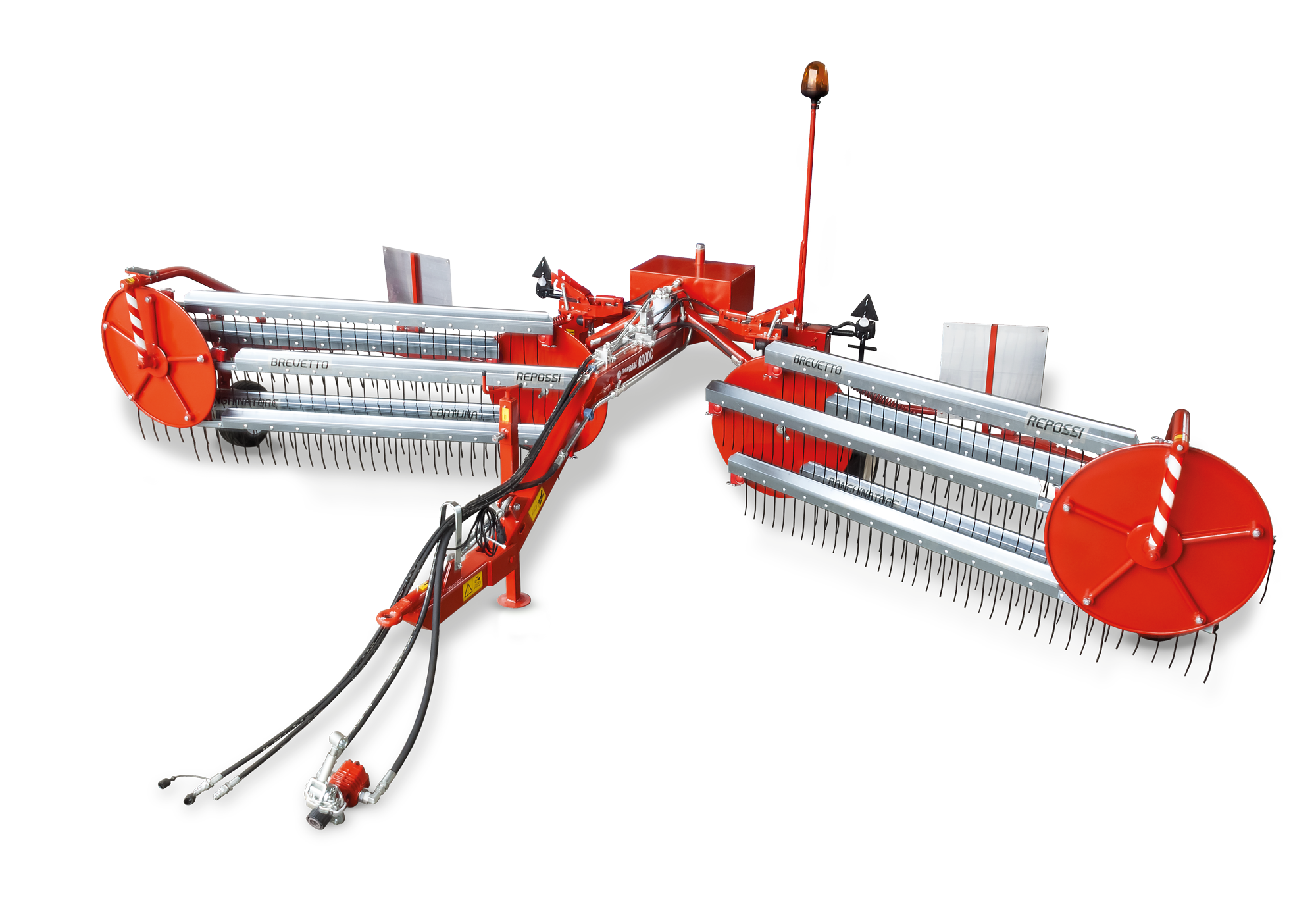 Trailed, hydraulic, double comb side-delivery rake with central swath This rake has 10 reels that are acted from the tractor driver's seat. It is equipped with an independent hydraulic plant which oil pump, fitted to the tractor's power take-off, acts the rotation of the reels. The central wheels lifting pistons and the raking groups lifting hydraulic cylinders are acted by the tractor's hydraulic distributors. It forms a compact central swath. By request they can be equipped with a lighting unit.
Special Advantages







| | |
| --- | --- |
| Working width | 5.40 m |
| Minimum transport width | 2.55 m |
| Transport height | 2.77 m |
| Number of reels | 10 |
| Tines per reel | 13 |
| Wheels | 26x12.00-12/16x6.50-8 |
| Weight | 940 kg |
Additional ballast for main wheels
Electric-valves kit to allow single movement of the raking groups from the cabin
Hydraulic taps to allow single movement of the raking groups
Video
Photo gallery
Ranghinatore a pettini trainato idraulico ad utilizzo posteriore con due gruppi ranghinanti ad andana centrale, comandato dal posto di guida del trattore. Dotato di impianto idraulico indipendente, con pompa calettabile alla presa di forza del trattore, che alimenta il sistema idraulico, permettendo il movimento degli aspi. L'azionamento dei cilindri che alzano e abbassano le ruote e dei due gruppi ranghinanti viene comandato dai distributori del trattore. Equipaggiato con impianto luci è OMOLOGATO per la circolazione su strada in Italia.
Download