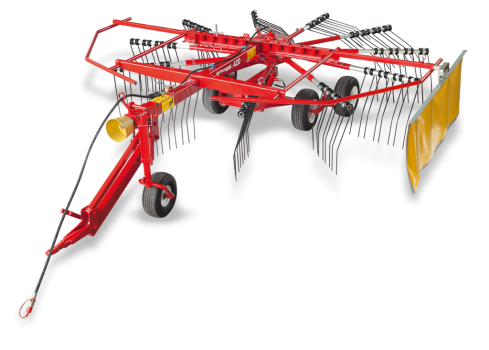 Trailed rotary rake with one rotor. It is trailed both in working and in transport position; it is acted by the power take-off and have one oil-lubed and height adjustable rotor with 11 strong zinc-plated arms with a special profile (like a cardan shaft), that are easily unthreaded for the transport on the street, on which 4 special steel C85 teeth with double slope shape are mounted. Their working width can be: 4.20 m, 4.00 m or 3.80 m (left swath included) and can changed depending on the quantity of product to be raked in the field so that the user can always obtain windrows with optimal dimensions. It has 4 main Balloons wheels 18.5×8.50-8 assembled on a tandem truck to have the best fitting to the ground and a fifth frontal one with screw system adjustable height to optimize the working plane, a double omokinetic cardan shaft with clutch and rotor locking device for road transportation; the shaft that links the rake to the tractor has a parallelogram shape. When the rake is lifted, the front wheels of the tandem truck detaches from the ground to make maneuvering easy and prevent tyres side slippage. By request they can be equipped with a lighting unit.
Special Advantages





| | |
| --- | --- |
| Working width | 4.60 m / 4.40 m / 4.20 m |
| Rotor diameter | 3.68 m / 3.53 m / 3.40 m |
| Minimum transport width | 1.79 m |
| arms | 12 |
| Tines for each arm | 4 |
| Wheels | 4 ruote Super Ballons 18.5×8.50-8 su tandem |
| Weight | 575 kg |
Video
No video for this product.
Photo gallery
Ranghinatore rotante ad un rotore trainato idraulico. E' trainato sia in posizione di lavoro che di trasporto ed è azionato dalla presa di forza, con un rotore regolabile idraulicamente in altezza, è dotato di 12 robusti bracci portadenti zincati con speciale profilo a limone (come alberi cardanici), facilmente sfilabili per il trasporto su strada, su cui sono montati 4 denti in acciaio C85 a doppia inclinazione. La larghezza di lavoro può essere di 4.60 m, 4.40 m o 4.20 m (andana compresa) a seconda della quantità di prodotto presente in campo così da ottenere sempre andane di dimensioni ottimali. Ha 4 ruote Super Ballons 18.5×8.50-8 montate su carrello tandem per un perfetto adattamento alle asperità del terreno ed un'elevata velocità di avanzamento. Di serie ha una ruota tastatrice anteriore regolabile a vite in altezza che garantisce un perfetto piano di lavoro, un albero cardanico doppio omocinetico con frizione (per poter lavorare con angoli elevati), il timone con parallelogramma (per un perfetto adattamento al trattore), un fermo per il bloccaggio del rotore durante il trasporto (così da rimuovere il minor numero possibile di bracci per il trasporto su strada). Quando la macchina viene sollevata, le ruote anteriori del tandem si alzano dal terreno per agevolare le manovre ed evitare lo strisciamento laterale dei pneumatici (sia su strada che in campagna). Equipaggiato con impianto luci è OMOLOGATO per la circolazione stradale in Italia.
Download