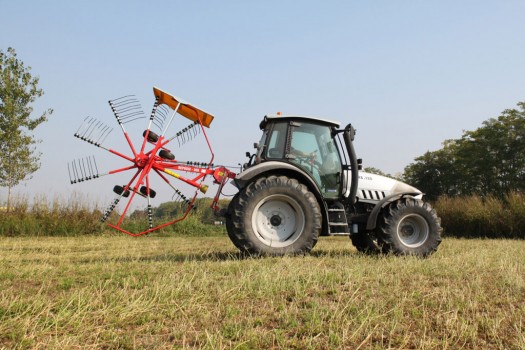 Rotary rake that can be vertically positioned for the transportation on public road. For transportation it is hydraulically turned in vertical position: this operation is guided from the driver's seat. In this way it is possible to lead all operations (from raking to moving on the street) without leaving the cabin and without removing any arm with considerable time saving. This rake is mounted to the rear lifter of the tractor and has a steering frame; it is acted by the power take-off and has one oil-lubed and height adjustable rotor with 8 strong zinc-plated arms with a special profile (like a cardan shaft) on which 3 special steel C85 teeth with double slope shape are mounted. It can work width two different width: 3.00 m and 2.80 m depending on the quantity of product to be raked in the field so that the user can always obtain windrows with optimal dimensions. It has 2 wheels 15×6.00-6, a mechanical rotation safety locking device for road transportation and a cardan shaft with clutch.
Special Advantages






| | |
| --- | --- |
| Working width | 3.00 m / 2.80 m |
| Rotor diameter | 2.80 m / 2.68 m |
| Minimum transport width | 1.50 m |
| arms | 8 |
| Tines for each arm | 3 |
| Wheels | 2 Balloons wheels 15×6.00-6 |
| Weight | 355 kg |
Sensing front Balloon wheel adjustable in height with special pivot or chain
3 point chain
Video
Photo gallery
Ranghinatore rotante ribaltabile per il trasporto su strada. Per il trasporto viene infatti posizionato in verticale mediante un sistema idraulico azionato dal posto di guida del trattore: questa possibilità consente di effettuare tutte le operazioni (dalla ranghinatura in campo al trasporto su strada) senza scendere dal trattore e senza rimuovere i bracci porta-denti assicurando notevole risparmio di tempo. E' un ranghinatore portato ai tre punti, ad utilizzo posteriore, con telaio sterzante, azionato dalla presa di forza, con un rotore a bagno d'olio regolabile in altezza a vite (che consente una regolazione molto precisa e veloce dell'altezza di lavoro) con 8 robusti bracci portadenti zincati con speciale profilo a limone (come alberi cardanici) su cui sono montati 3 denti in acciaio C85 a doppia inclinazione. La larghezza di lavoro può essere variata da 3.00 m a 2.80 m (andana compresa) a seconda della quantità di prodotto presente in campo così da ottenere sempre andane di dimensioni ottimali. Ha 2 ruote Ballons fisse 15×6.00-6 ed è dotato di un fermo meccanico di sicurezza per il trasporto su strada in verticale e di albero cardanico con frizione.
Download