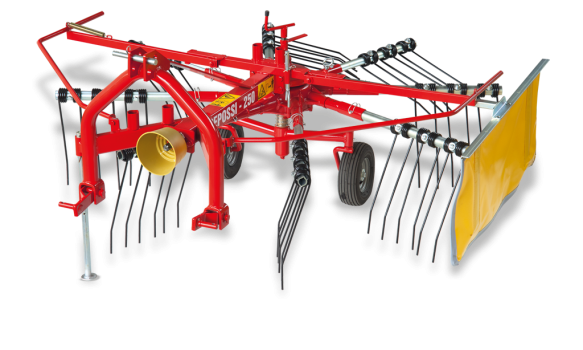 Rear mounted rotary rake, acted by the power take-off with one oil-lubed and height adjustable rotor. It has 8 strong zinc-plated arms with a special profile (like a cardan shaft), that are easily unthreaded for the transport on the public road, on which 3 special steel C85 teeth with double slope shape are mounted. Its working width is 2.50 m (left swath included). It has 2 swivelling wheels 13×5.00-6, a cardan shaft and a rotor locking device for road transportation.
Special Advantages




| | |
| --- | --- |
| Working width | 2.50 m |
| Rotor diameter | 1.90 m |
| Minimum transport width | 1.05 m |
| arms | 8 |
| Tines for each arm | 3 |
| Wheels | 2 swivelling wheels 13×5.00-6 |
| Weight | 225 kg. |
No accessories for this product.
Video
Photo gallery
Ranghinatore rotante portato ai tre punti ad utilizzo posteriore, azionato dalla presa di forza con un rotore a bagno d'olio regolabile in altezza a vite (che consente una regolazione molto precisa dell'altezza di lavoro), con 8 robusti bracci portadenti zincati con speciale profilo a limone (come alberi cardanici) facilmente sfilabili su cui sono montati 3 denti in acciaio C85 a doppia inclinazione. La sua larghezza di lavoro è di 2.50 m compresa l'andana. Ha 2 ruote 13×5.00-6 piroettanti ed è completo di albero cardanico e di fermo per il bloccaggio del rotore durante il trasporto.
Download