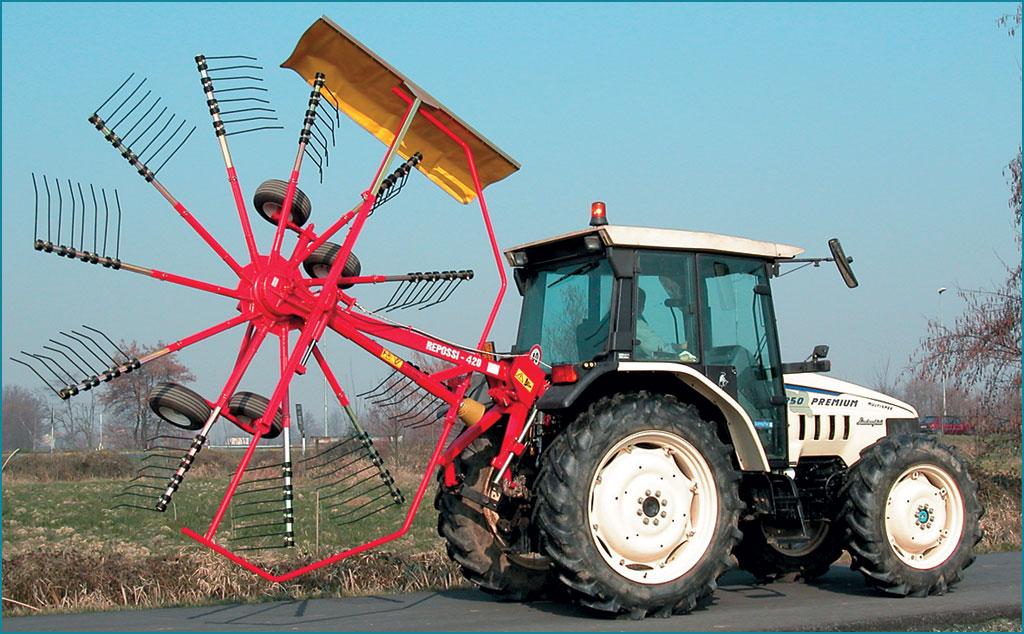 Zgrabiarka karuzelowa, składana do transportu po drodze. Podczas transportu jest składana pionowo za pomocą instalacji hydraulicznej sterowanej z kabiny ciągnika. Dzięki temu wszystkie operacje (od zgrabiania trawy do transportu po drodze) można wykonywać bez wysiadania z ciągnika i bez demontowania ramion zgrabiających zapewniając sobie ogromną oszczędność czasu. Jest to zgrabiarka zaczepiana na trójpunktowym zaczepie. Podłączenie tylne, skrętne podwozie, uruchomienie przez napęd ciągnika, posiada wirnik (przekładnia w kąpieli olejowej) z możliwością regulacji wysokości za pomocą śrub (zapewnia to bardzo precyzyjną i szybką regulację pracy), 11 mocnych ramion zgrabiających z cynkowanymi zębami o specjalnym profilu (jak wałki kardanowe) łatwych do demontażu z czterema zamontowanymi stalowymi (C85) zębami o podwójnym kącie nachylenia.
Szerokość robocza waha się od 4.20m poprzez 4.00m do 3.80m (włącznie z pokosem) w zależności od ilości trawy na łące tak aby otrzymać optymalną wielkość pokosu. Posiada 4 koła stałe16x6.50-8 zamontowane na tandemie,  blokadę mechaniczną wirnika podczas transportu po drodze w pozycji pionowej, kompletny wałek kardanowy ze sprzęgłem oraz tłok hydrauliczny.
Szczególne korzyści





| | |
| --- | --- |
| Szerokość pracy | 4.20 m / 4.00 m / 3.80 m |
| Średnica wirnika | 3.46m/3.33m/3.20m |
| Minimalna szrokość transportowa | 1.80 m |
| Ramiona | 11 |
| Zęby na ramieniu | 4 |
| Koła | 4 koła 16x6.50-8 na tandemie |
| Ciężar | 510 kg |
Specjalny przegub na trzecim punkcie
Regulowany balans – tandem
Łańcuch – 3° punkt
Przedłużacz podnośnika wtyczka z uziemieniem
Koło kopiujące przednie, z regulacją wysokości i specjalnym przegubem łańcuchowym
Specjalny przegub na trzecim punkcie
Video
Galeria zdjęć
Ranghinatore rotante ribaltabile per il trasporto su strada. Per il trasporto viene infatti posizionato in verticale mediante un sistema idraulico azionato dal posto di guida del trattore: questa possibilità consente di effettuare tutte le operazioni (dalla ranghinatura in campo al trasporto su strada) senza scendere dal trattore e senza rimuovere i bracci porta-denti assicurando notevole risparmio di tempo. E' un ranghinatore portato ai tre punti, ad utilizzo posteriore, con telaio sterzante, azionato dalla presa di forza, con un rotore a bagno d'olio regolabile in altezza a vite (che consente una regolazione molto precisa e veloce dell'altezza di lavoro) con 11 robusti bracci portadenti zincati con speciale profilo a limone (come alberi cardanici) su cui sono montati 4 denti in acciaio C85 a doppia inclinazione. La larghezza di lavoro può essere di 4.20 m, 4.00 m o 3.80 m (andana compresa) a seconda della quantità di prodotto presente in campo così da ottenere sempre andane di dimensioni ottimali. Ha 4 ruote Ballons 16×6.50-8 montate su tandem ed è dotato di un fermo meccanico di sicurezza per il trasporto su strada in verticale, di albero cardanico con frizione e di terzo punto idraulico.
Pobieranie